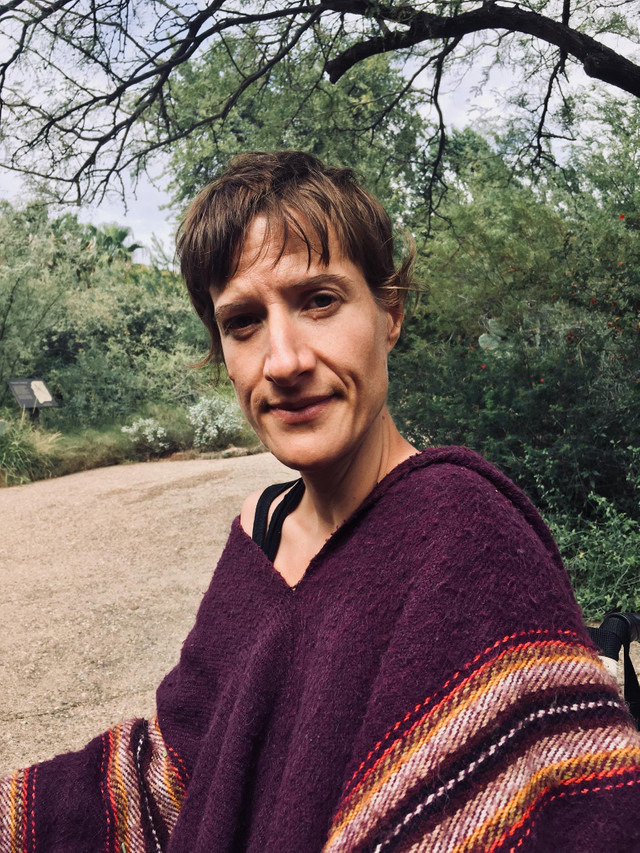 Taylor Sunaura
Née en 1982 à Tucson (Arizona), Sunaura Taylor est atteinte d'arthrogrypose, une maladie congénitale qui affecte les articulations. Elle contracte cette maladie, comme d'autres enfants de son quartier, car sa mère enceinte a été contaminée, en buvant de l'eau du robinet, par les déchets toxiques enterrés dans le sol de la région par l'armée américaine.
Avec ses frères et sœurs, Sunaura Taylor devient végétarienne vers l'âge de 6 ans lorsqu'elle comprend que « viande » signifie « animal ». Elle s'engage alors en famille dans la défense des droits des animaux. Bien des années plus tard, lorsqu'elle peint les poulets qu'elle a vus, entassés dans un camion qui les mène à la mort, Sunaura Taylor comprend l'importance de considérer les animaux d'un point de vue intersectionnel. Tous les corps subissent l'oppression du validisme : son militantisme pour les personnes handicapées rejoint celui pour la cause des animaux.
Sunaura Taylor a suivi des études d'art et reçu en 2004 le Grand Prix de l'organisation VSA pour les nouveaux artistes ayant un handicap. En 2008, elle est lauréate du prix de la Joan Mitchell Foundation. Ses peintures sont exposées à travers les États-Unis, notamment à la Smithsonian.
Sunaura Taylor signe également de nombreux textes dans les médias, dont le très remarqué Is It Possible to Be a Conscientious Meat Eater ? Braves bêtes est son premier livre publié. Il a été récompensé en 2018 par l'American Book Award.
Dans Examined Life, réalisé par sa soeur, Astra Taylor, et consacré à plusieurs philosophes contemporains, elle se balade avec Judith Butler dans les rues de San Francisco et s'entretient sur le genre, le corps, les politiques d'inclusion et d'exclusion des personnes handicapées. Pour le New Yorker, « Judith Butler rencontre saint François d'Assise. »
Sunaura Taylor vit aux États-Unis où elle enseigne.